C. Bolton's Multimedia Projects
Most of my research activity consists of writing and editing. But I am also interested in the possibility of producing literary theory and criticism in other media--for example visual or digital media. This page describes some related projects, several of them collaborations with visual artists or student designers.
Repro Japan Exhibition
Repro Japan is an exhibition of Japanese popular media I am curating at the Williams College Museum of Art in 2021.
The show traces the links between Japanese popular culture and the technologies of reproduction that have created it, by exhibiting a range of different media in dialogue with one another. Anchored by Edo-period woodblock prints from seven different museums, the exhibition juxtaposes these prints with a wide variety of popular "reproductions," from 19th-century photography to contemporary manga, animation, and fan art--including cosplay, subcultural fashion, model figures, dōjinshi, and fan photography.
The exhibition's goal is to highlight not just the role of reproduction in popular culture, but also the way that popular culture produces and reproduces our image of Japan.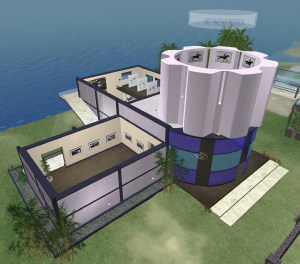 I have done a couple of projects within the virtual online world of Second Life, which is something like a massively multi-player online "game" in which participants construct their own environments and devise their own rules.
The first project was an art museum within Second Life, conceived as a laboratory for thinking about issues involved in reading and critiquing animation, particularly Japanese anime and manga. I built the museum (pictured at left) in collaboration with students and Instructional Technology staff at Williams College. The museum no longer exists inside Second Life, but I wrote a little bit about it in an article titled "Virtual Creation, Simulated Destruction, and Manufactured Memory at the Art Mecho Museum in Second Life" in Mechademia 4 (2009): 198-210.
The second project was a January-term class titled Virtual Realities, where the students' final project was to create an environment in Second Life to comment on the issues of virtuality and simulation treated in the course. The result was a multi-storey funhouse, conceived by Lorraine Schmidt '13 and with levels designed by several different teams of students. Each level forced the user to navigate and comprehend a different kind of virtuality before s/he could advance to the next level. In parallel with this, science fiction author and Williams faculty member Paul Park taught students to write virtual reality fiction. Acting as representatives of these two virtual worlds--the textual and the digital--Paul and I tried to encourage students to think about how to fuse or distinguish these two realities. For a description of this course, see the Courses Page of this site.
"Animating Poststructuralism" is a short animated film designed to introduce key concepts in structuralist and poststructuralist literary theory. Structuralism seems to lend itself readily to visual abstraction: it is often described with a set of canonical diagrams drawn by early structuralist critics. But deconstruction and other movements that followed have often stressed the dangers of abstraction, and advocated extended entanglement with the written text. To represent this critical transition, the animation first establishes a visual language and then expands or plays with that language as it proceeds. I created the script and storyboards for the video, and Galen Corey '14 did the animation.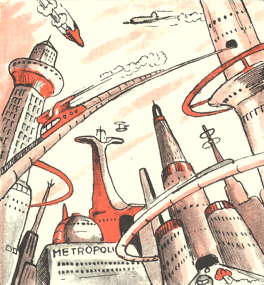 Mechademia is a series of volumes for scholarship on Japanese popular visual culture (described in more detail on the books page of this site). I was on the editorial board for the first arc of the series (2006-2015), when each volume had a few pieces in visual formats. I co-authored or edited several of these, including an editorial manifesto in manga form co-written with Frenchy Lunning and illustrated by Sara Pocock, an introduction to the manga of Komatsu Sakyō by Tatsumi Takayuki (detail at left), and a cosplay photography image spread co-authored with Eron Rauch.
Web Design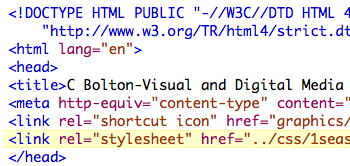 I have been building web pages related to my academic work since the web's early days. I'm interested in visual design and layout, but also have a slightly obsessive preoccupation with the underlying HTML code--how it represents information, and how it relates to what you finally see in your browser. In the late 1990s and early 2000s I designed, redesigned, and/or coded sites for my departments at Stanford, UC Riverside, and Williams, as well as for my own courses. Today colleges have switched over to sites that are generated automatically from common templates, using software like Wordpress or Canvas. These systems have some advantages: I'm glad I no longer have to code each of my course pages by hand, for example. But I do miss the days when more faculty had an interest in the languages that underlay these pages, and when departments could build unique pages to reflect their own ideas about visual language and communication.
These days my web development efforts are focused on this site, particularly Japanese for Your Mac, a reference for students and other beginners wanting to use Japanese with a Mac computer. If my server logs are to be believed, it gets over two thousand visitors each month. Most recently I designed and built a site for my latest book at intepretinganime.org.