C. Bolton's Book Projects
This page describes my book projects. For a fuller list of my publications (including articles and book chapters, some translations, and publications in Japanese), see the short CV elsewhere on this site.
Interpreting Anime
by Christopher Bolton (forthcoming from University of Minnesota Press in January 2018)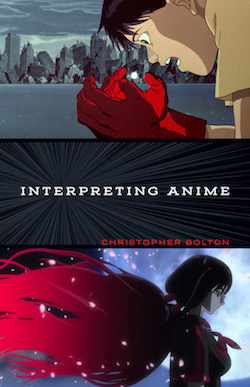 This is a study of how to read and interpret Japanese animated film, organized around a series of cross-media comparisons. Each chapter reads a different feature-length anime film and juxtaposes it with a different medium: prose fiction, print comics, fine art, live-action film, classical Japanese theater, and contemporary drama. These comparisons address the book's central questions: what can anime as a medium do that other media cannot, and how can criticism respond to anime's unique possibilities?
Each chapter consciously employs different critical approaches, to ask what theoretical tools are best suited to reading anime. For example, a chapter on Oshii Mamoru's cyborg narrative Ghost in the Shell references poststructuralism and posthumanism to locate anime in the history of Japanese puppet and kabuki theater; a chapter on Ōtomo Katsuhiro's post-apocalyptic epic Akira applies theories of postmodernism in visual art to the anime and printed comic versions of Akira; and another chapter compares Kon Satoshi's Millennium Actress with contemporary avant-garde theater through the lens of queer theory.
These different readings fit together into a broader argument that anime films are experienced differently from other media because the formal qualities of anime move the viewer very rapidly back and forth between two extremes: an emotional or intellectual investment in the story or characters, and a more detached, metafictional consideration of the characters and the film as technological products. The result of this oscillation between visceral realism and intellectual or visual abstraction is an art form that can engage concrete social and political realities at the same time it addresses more abstract issues of how to represent those realities.
Sublime Voices: The Fictional Science and Scientific Fiction of Abe Kōbō
by Christopher Bolton (Harvard Asia Center, 2009).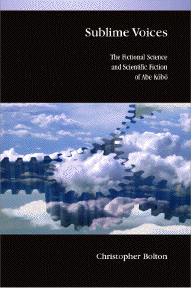 This is a study of of the Japanese avant-garde writer Abe Kōbō (1924-1993), focusing on the relationship between science and literature within his fiction. Abe achieved an international reputation for his surreal or grotesque brand of fiction, in which the protagonists often find themselves trapped in a world where rationality has failed: they wander lost in literal and figurative urban labyrinths; they are stalked by mysterious doubles who steal their identities; or they metamorphose into animals, plants, and inanimate objects. But these same works also include rigorous scientific elements, with characters, ideas, and highly technical language borrowed from disciplines ranging from organic chemistry and developmental biology to geometry and computer science. This book focuses on Abe's language to argue that the interplay between the "voices" of science and fiction in these novels is the key to unlocking Abe's texts, from his early experiments with science fiction to the more mature psychological novels and films that brought him international acclaim, and finally the complicated experimental works he produced near the end of his career.
Table of Contents
Introduction – Abe Kōbō's Dictionary • 1. Transforming Science: Metamorphosis in Abe's Life and Work • 2. Abe's Essays and Some Historical Distinctions Between Literature and Science • 3. Whirring, Clicking Poetry: Inter Ice Age 4 • 4. The Dialogue of Styles, the Dance of Fiction, and The Face of Another • 5. The Hope of Technology and the Technology of Hope in The Woman in the Dunes • 6. The Parody, Perversity, and Cacophony of Secret Rendezvous • 7. A Technology of Silence: The Ark Sakura and the Nuclear Threat
More information on the Harvard University Press web site
Robot Ghosts and Wired Dreams: Japanese Science Fiction from Origins to Anime
Edited by Christopher Bolton, Istvan Csicsery-Ronay, Jr., and Tatsumi Takayuki (University of Minnesota Press, 2007).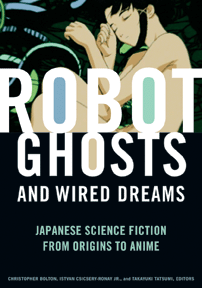 Robot Ghosts and Wired Dreams is an introduction to Japanese science fiction--a collection of complementary essays by North American, European, and Japanese critics who treat the successive periods in the development of the genre, as well as examples in different media--starting with the irregular detective fiction of the 1930s and moving through canonical anime films of the 1990s, the advent of digital fiction, and the video game / film crossover Final Fantasy. The chapters also exhibit a range of critical approaches, providing an overview not only of the genre, but also of the field that studies it. The essays are connected by some common theoretical issues and arguments, particularly the relationship and the boundaries between technology and identity—whether it is personal or bodily identity, group or gender identity, or national identity.
More information on the University of Minnesota Press web site.
Ed. Frenchy Lunning (University of Minnesota Press, 2006-2015)
Mechademia is an annual series from the University of Minnesota Press for writing about anime, manga, and related arts. I was one of the founding editors, and a senior editor on the first arc of this series, ten volumes published from 2006-2015. Each volume includes work by writers from a range of disciplines, in a variety of formats--from prose articles to critical manga and photo essays--all tied together by a single theme.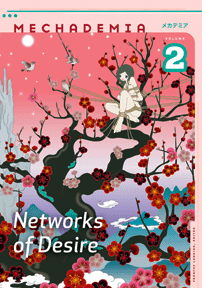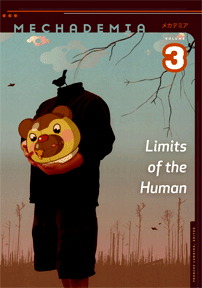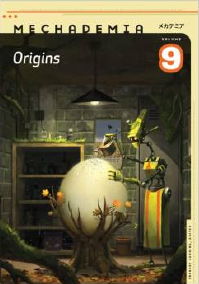 Information about each of these volumes is also available on the University of Minnesota Press's Mechademia Page and Amazon's Mechademia Page.
Mechademia's second arc is launching soon, with a new editorial board. For information on future volumes, see the Mechademia.net web page.