Interpreting Anime
by Christopher Bolton
About the Book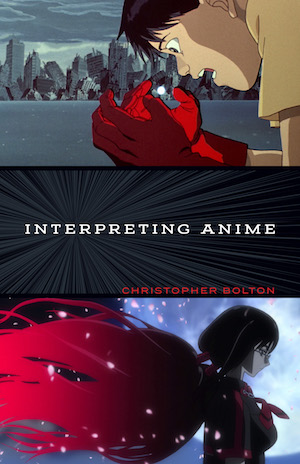 Interpreting Anime is my 2018 book about how to read or interpret Japanese animated film. It addresses the question of "how anime looks"—in the sense of what it looks like, but also how it sees the world.
The different chapters consider canonical anime films and short series from the last 30 years and juxtapose them with different comparison media (including prose fiction, manga, live-action cinema, and even classical Japanese theater) in order to ask what anime can do that other media cannot.
The book also employs a wide range of critical methodologies—from poststructuralism to phenomenology, psychoanalysis, new media theory, and more—to investigate what each of these different approaches can reveal about anime's particular powers and blind spots.
For example, a chapter on Ōtomo Katsuhiro's post-apocalyptic epic Akira uses theories of postmodernism to contrast the anime and manga versions of Akira; another chapter compares Kon Satoshi's Millennium Actress with contemporary avant-garde theater through the lens of queer theory.
These different readings fit together into a broader argument that anime films are experienced differently from other media because their particular qualities move the viewer very rapidly back and forth between two extremes: an emotional or intellectual investment in the story or characters, and a more detached, metafictional consideration of the film and its figures as technological products or effects. The result of this oscillation is an art form that can engage concrete social and political realities at the same time it addresses more abstract issues of how to represent those realities in the first place.
Interpreting Anime has a number of features that make it well suited for classroom use, whether the course devotes a couple of weeks to anime or a whole semester.
The video below provides a short introduction to the book.
Interpreting Anime is published by the University of Minnesota Press and is available from your favorite bookstore.
Table of Contents
Introduction. Read or Die: Reading Anime • 1.From Origin to Oblivion: Akira as Anime and Manga • 2.The Mecha's Blind Spot: Cinematic and Electronic in Patlabor 2 • 3.Puppet Voices, Cyborg Souls: Ghost in the Shell and Classical Japanese Theater • 4.The Forgetful Phallus and the Otaku's Third Eye: 3x3 Eyes and Anime's Audience • 5.Anime in Drag: Stage Performance and Staged Performance in Millennium Actress • 6.The Quick and the Undead: Blood: The Last Vampire and Television Anime • 7.It's Art, but Is It Anime? Howl's Moving Castle and the Novel • Conclusion. Summer Wars